Accessing MU Resources
To access MU resources from off campus you need to establish
a connection using a VPN Client.
Further support for gaining VPN access including information
on connecting using other devices and operating systems may be obtained through
the Department of Information Technology.
Accessing UMKC Resources
UMKC resources may be accessed from off campus by going
through a sign in page. When you reach the sign in page, you may use either
your username and password OR your ID number and last name to login to a
resource. The screen shot below illustrates what the login screen looks like.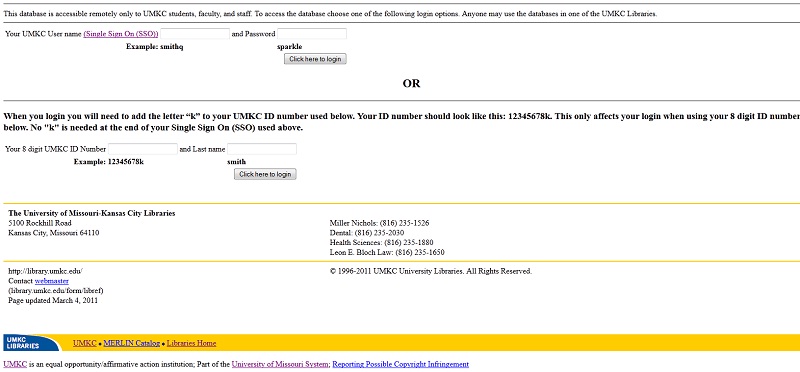 This is the recommended way to access UMKC resources off
campus. You can also access UMKC resources using a VPN configured for their
campus, but you cannot be connected to the MU VPN and UMKC VPN at the same
time. If it connects at all it would still only be as though you were connected
through one of the campuses. UMKC supports VPN access on Windows, Mac OS X,
iOS, Android, and Linux. Using the login screen to access UMKC resources is
recommended as you may only access MU resources through TigerNet.
VPN Basics
The following is some general information on using a VPN
Client.
You may switch your VPN connection on and off. How you do this
will depend on what device you have, but generally it can be faster than
logging into the proxy server each time you access resources from off campus if
you do so frequently.
While the VPN client is on it routes all of your internet traffic
through the University network. For general computer and internet use you will
want to leave the VPN off and turn it on only when you need to access
restricted library resources.
Because your internet traffic is routed through the University
network before reaching the general internet your internet performance may be
somewhat slower that it may otherwise be from your off campus location.
Since the VPN client allows your computer to function as a member
of the University network, policies which apply to network and internet use on
campus extend to your off campus computer when the VPN is on.
Return to Electronic Resource Access: A guide for students of the UMKC School of Pharmacy at MU